Fable Shepherds Pie
Undoubtedly, one of the most comforting and heartiest meals around.
Preparation Time: 25 minutes
Cook time: 1 hour
Serves: 4-5
An easy-to-make crowd pleaser. Will warm hearts and bellies. 100 percent.
250g Fable, chopped until mince-like
400g tinned lentils, drained
1 tbsp olive oil
1 onion, finely chopped
2 cloves garlic, minced
1 carrot, finely chopped
2 celery stalks, finely chopped
3-4 sprigs of thyme
1-2 bay leaves
2 tbsp tomato paste
350 ml vege stock
125 ml red wine
3 tbsp Worcestershire sauce
1 cup (loosely packed) flat-leaf parsley, coarsely chopped 
Mash
1 kg desiree or dutch cream potatoes, peeled and roughly chopped
100g Nuttelex or butter, plus extra to brush on top

Salt to taste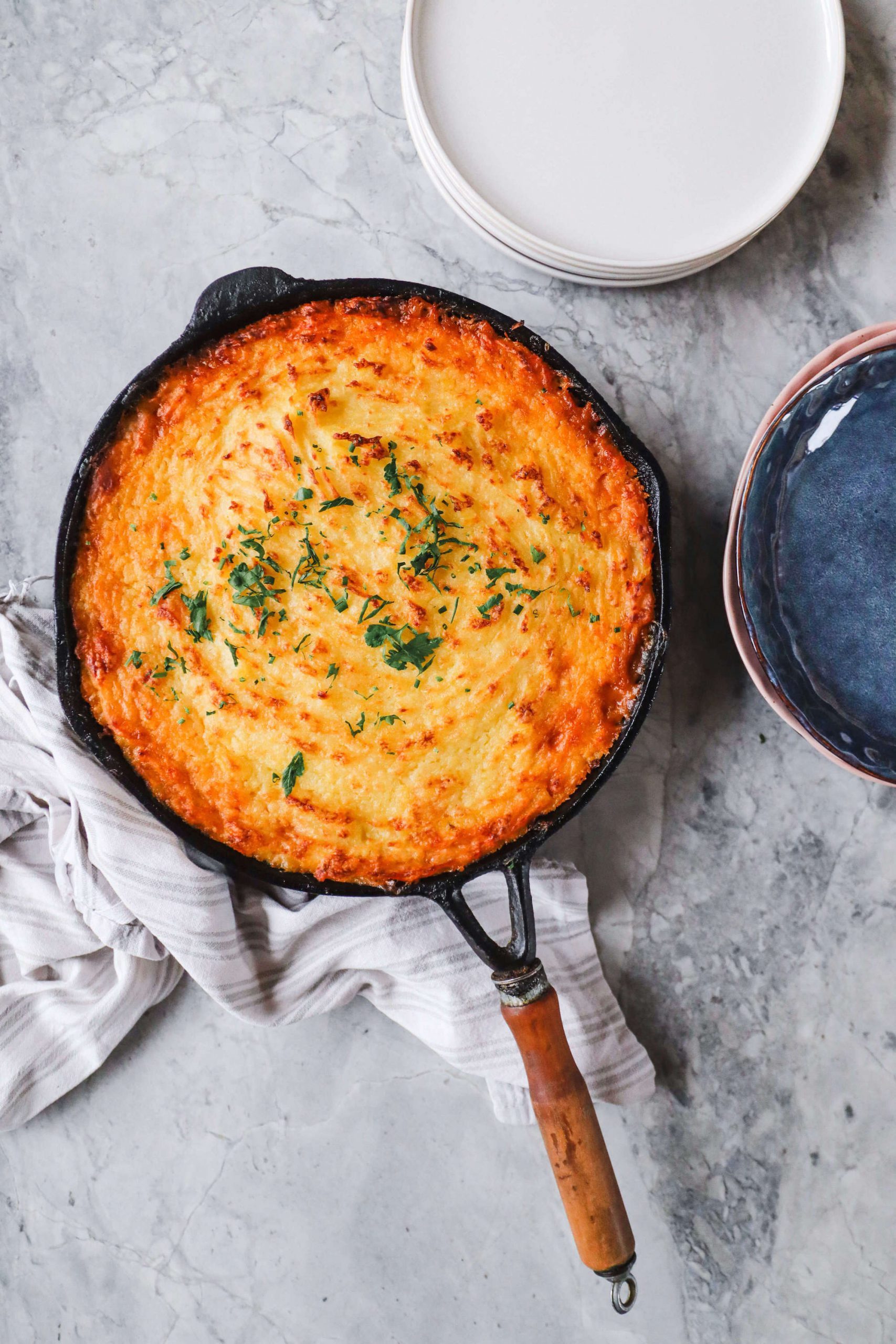 Preheat oven to 200 degrees celsius. 

Heat oil in cast iron pan or saucepan. When hot, add onion, garlic, carrots, celery, bay leaves and thyme until vegetables soften. Add

'

minced

'

Fable and cook for further 10 minutes.

Add tomato paste, Worcestershire sauce, stock and wine and stir to combine. Reduce heat to low and simmer until sauce begins to thicken, around 15 minutes. Add lentils and cook for further 10 minutes until sauce is thick.  Stir through chopped parsley and season with salt to taste. 

Meanwhile, prepare mash by placing chopped potatoes in pot of cold water and bring to boil. Cook until tender. Drain potatoes, and return to pot. Add Nuttelex or butter and mash until creamy. Set aside.

Transfer Fable pie mix to a casserole dish (if not using an oven transferrable pan), and top with mashed potato. Use a fork to run light tracks through the mash and drizzle with remaining melted Nuttelex or butter.

Bake in oven until top is golden brown, around 10-15 minutes.